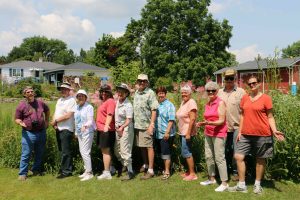 Welcome to the website for Wild Ones – Root River Chapter, located in SE Wisconsin. It is just about the coolest chapter around. We will have geeky native plant news, cool pictures, and important information about native plants and invasive species. If you love plants that are native to southeast Wisconsin and understand their undeniable importance in our landscapes – this is the page for you!!  Our mission is to educate and advocate on behalf of native plants and sustainable landscaping.
President – Regina Harders
Vice President – Joann Sustachek
Secretary – Thomas La Duke
Treasurer – John Salituro
Membership Coordinator – Nicole Riendeau
Meetings are usually the first Saturday of each month 10:00-11:30 a.m. The location depends on what we have scheduled: field trip, speaker or service project. Sometimes we go somewhere for lunch afterwards!
Regularly scheduled meetings and chapter activities run year round on the first Saturday of the month from 10:00-11:30 a.m. The meeting location varies depending on what we are doing – field trip, speaker, or service project. Additional activities and volunteer opportunities are also available to members. Contact Regina Harders at [email protected] or cell (708) 209-5830 for activity/program information if you have not received a pre-meeting email.